Dietitian's tips to managing our health through COVID-19
As if COVID-19 wasn't a challenge enough for so many of us with job losses, financial strain, home-schooling kids and keeping little ones entertained, then as time went on an interesting bonus challenge emerged, popularly referred to as 'COVID kilos.' These are the pesky kilos associated with being in lockdown most often due to cancelled gym membership, endless trips to the fridge and cupboards whilst stuck at home and every day is a potential alcohol day.
I've seen this phenomenon really get many people down and impact their mood, which often only makes it harder to shift back to healthy habits. In more severe cases, I've also seen patients' cholesterol and blood pressure rise to the point where they need to begin medication, as well as a spike in blood sugar levels, leading to a diagnosis of type 2 diabetes.
It seems that many people were expecting the life changes that came with COVID-19 to last only a short time but now six months later, our lives are different and this may be the case for some time to come. With this needs to be a change in the way we function and the way we care for ourselves, so here are a few tips that can really help to manage our health and our weight during COVID-19:
Eating habits
Grazing all day – this is common if you're used to being in the office and now working from or being home more often as there is no schedule or routine, so I'd encourage creating one. Set up meal times and snack breaks throughout the day and don't eat outside of those times.
More junk food – if this is because you have greater access to it because it's at home and so are you, I'd encourage you to simply keep it out of the house and get some more nutritious alternatives to take its place. Think bliss balls, fruit, wholegrain crackers and yoghurt. Then if you really feel like that choccy bar or packet of chips, get just the one and enjoy it!
Emotional eating – There are many ways to manage emotions and using food is a really common one. It's ok to do this – but it can become problematic if it's the only coping mechanism and it's used often. Identifying exactly what it is that you're feeling and matching it with the right response can help, for example, if you're bored, have a list of things you want to do or get done around the house and tick one of those off before heading to the fridge.
Difficulty accessing healthy food – this is a really tricky one but there are few things that are for sure, buying food and preparing it from home is always going to be more cost-effective and more likely a healthier option than take away as you have more control over the ingredients you use
Less activity
Trial other activities – If you were once a gym-goer and cancelled your membership, perhaps you're a bit nervous to get back into the gym, which is completely understandable, it might be worth trialling some other activities.
Get outside – Nothing could be better for the soul than being out in the fresh air getting a little safe sun exposure (hello vitamin D) so heading out for a walk or run, doing your own or a small group exercise session is a great way to stick to your workout routine. Many people are feeling lonely and isolated through this time too so meet a friend and get outside for a walk or a workout, with some safe social distancing of course.
Take it indoors – there are now a plethora of home workouts available which have had a surge of popularity since the start of COVID-19. A search on Youtube will provide with you a huge variety of workouts to follow – from yoga to pilates, HIIT sessions to resistance training. There are also fitness apps available for download and most gyms, fitness centres and personal trainers have all taken it online now as well. It's a new way of exercising for many people so it's worth doing a little research and looking around at what's now available and what might suit you. The beauty is there are workouts available that can be done on the spot with no equipment if you don't have any, to workouts that use more space and some equipment if you do.
To help you get started, here is a receipt from my book Everyday Food As Medicine:
EDAMAME, AVOCADO & SPINACH SOBA NOODLES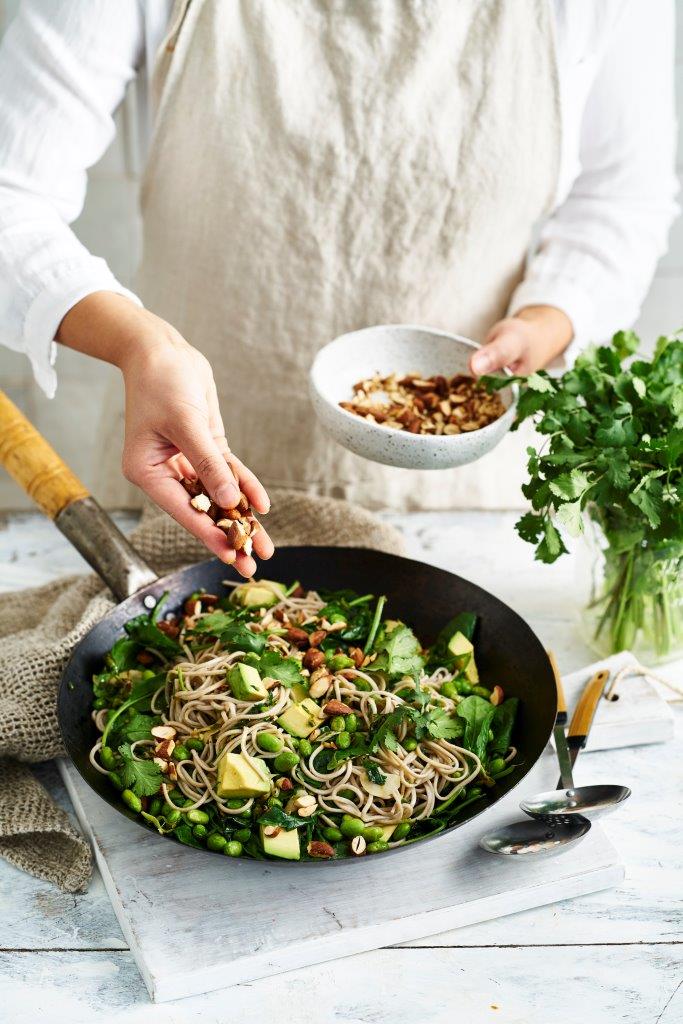 PREP + COOK TIME 30 MINUTES  SERVES 4
4 green tea bags
250g (8oz) 100% buckwheat
soba noodles
2 cups (300g) frozen shelled edamame (soybeans), thawed
1 tablespoon sesame oil
2 green onions (scallions), sliced thinly
3 cloves garlic, sliced thinly
1 long green chilli, chopped finely
120g (4oz) baby spinach leaves
1 cup coriander (cilantro) leaves, chopped coarsely
¼ cup (60ml) lime juice
2 medium avocados (500g), chopped coarsely
½ cup (80g) almond kernels, roasted, chopped coarsel
Bring 3 litres (12 cups) water to the boil in a large saucepan. Turn off the heat. Add tea bags; steep for 10 minutes. Discard tea bags.
Fill a large bowl with cold water. Return tea water to the boil; add soba noodles, then cook for 5 minutes or until tender. Drain, reserving ½ cup (125ml) cooking liquid. Working quickly, refresh noodles in the cold water; drain. Cover until ready to serve.
Pat thawed edamame dry with paper towel. Heat oil in a wok or large frying pan over high heat. Add green onion, garlic and chilli; cook, stirring frequently, for 1 minute or until fragrant. Add edamame; cook, stirring occasionally, for 2 minutes or until edamame are blistered slightly.
Add noodles to wok with spinach, half the coriander, the lime juice and reserved cooking liquid; cook, tossing continuously, for 2 minutes or until well combined and spinach has wilted.
Serve topped with avocado, remaining coriander and the almonds. tips  Make sure you buy unsalted edamame as they are better for heart health. Seed the chilli if you prefer less heat. swap  You can use peas instead of the edamame, if you like.
THE Doctor SAYS
Buckwheat soba noodles are often more nutritious than noodles made with other refined flours. Buckwheat is also better for heart health and blood sugar control.
THE dietitian says
Edamame (soybeans) have heart-health benefits because they are a great plant-based replacement for a meat meal, which is high in saturated fats.
Roasting the almond kernels brings out their flavour